Top 10 Cities With Most Skyscrapers
Skyscraper is a tall, continuously habitable building of over 40 floors, mostly designed for office, commercial and residential uses. A skyscraper can also be called a high-rise, but the term skyscraper is often used for buildings higher than 150m. Seeing so many skyscrapers in a single city's skyline can be a great amazing experience. The skyline of cities like New York, Hong Kong and Dubai displays some of the greatest feats of engineering. Wanna know which city's skyline has the most number of skyscraper; Here the list of Top 10 Cities With Most Skyscrapers; read on:
Top 10 Cities With Most Skyscrapers
1. Hong Kong (303)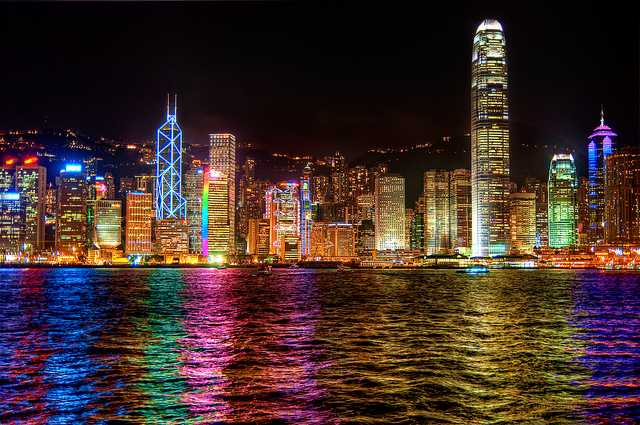 Hong Kong is an autonomous territory on the southern coast of China at the Pearl River Estuary and the South China Sea. Hong Kong is known for its skyline and deep natural harbor. With around 7.2 million inhabitants of various nationalities, Hong Kong is one of the world's most densely populated metropolises. Hong Kong is a major business and financial center in the People's Republic of China. It is also the city with the most number of skyscrapers in the world. Today, Hong Kong city boasts 7687 high-rise buildings and 303 incredible skyscrapers. Majority of skyscrapers in Hong Kong is used predominantly as residential buildings. At 8 pm in every evening the skyscrapers in Hong Kong involve in a dazzling light show. The pyrotechnic fireworks, laser show and music also combine together. The Guinness book of world records named this light show at the Hong Kong skyline as largest permanent light and sound festival in the world.
Top 5 Tallest Buildings In Hong Kong
International Commerce Center – 484 meters
Two International Finance Center – 416 meters
Center Plaza – 374 meters
Bank Of China Tower – 367 meters
2. New York City (237)
The City of New York is the most populous city in the United States. Located at the southern tip of the State of New York, the city is the center of the New York metropolitan area, one of the most populous urban agglomerations in the world. New York City exerts a significant impact upon commerce, finance, media, art, fashion, research, technology, education, and entertainment. New York City is the most economically powerful city in United States. It is regarded as the business capital of America. NYC also boast the most impressive skyline in U.S. It is home to more than 6000 high-rise buildings and 237 amazing skyscrapers. One World Trade Center, the tallest building in United States also located in NYC. It is a 104 storey 416 meter high skyscraper that built to replace original word trade center destroyed in 9/11 terrorist attack.
Top 5 Tallest Buildings In New York City
One World Trade Center – 416 meters
Empire State Building – 381 meters
Bank Of America Tower – 365.7 meters
Chrysler Building – 318.8 meters
The New York Times Building – 318.8 meters
3. Dubai (148)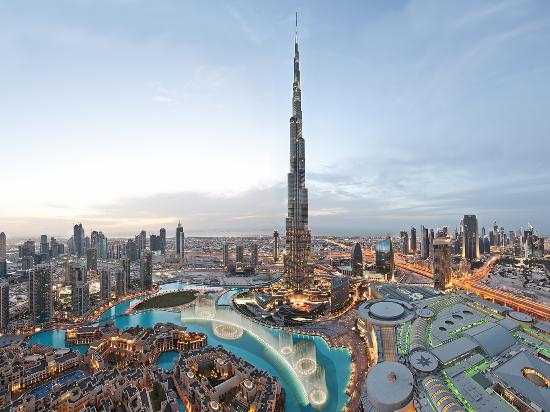 Dubai is the most populous city in the United Arab Emirates. It is located on the southeast coast of the Persian Gulf and is one of the seven emirates that make up the country. Dubai has emerged as a global city and business hub of the Middle East. Dubai is the fastest growing Arab city in the world; It is a global hub for tourism and trade. The city is home to world's highest skyscraper, 211 storey 830 m high Burj Khalifa.There are 148 jaw dropping skyscrapers and 917 high-rise buildings in Dubai. The unprecedented construction boom in Dubai city has occurred since 2005. The rapid rise of the Dubai skyline under a decade is just incredible it boasts highest skyline in the Middle East. Today 18 out of 148 skyscrapers in the city are rising to 300+ meters in height. Unsurprisingly the Dubai skyline continues to grow. At present 21 skyscrapers are under construction in Dubai. The minimum height of these buildings expected to be at 180 meters.
Top 5 Tallest Buildings In Dubai
Burj Khalifa – 828.18 meters
Princess Towers – 413.30 meters
Elite Residence – 380.3 meters
4. Shanghai (126)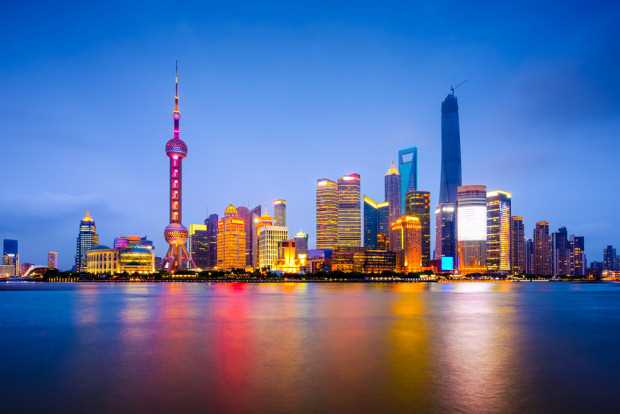 Shanghai is the most populous city in China as well as the most populous city proper in the world. It is the second most populous of the four direct-controlled municipalities in China, with a population of more than 24 million as of 2014. It is a global financial center and a transport hub with the world's busiest container port. Located in the Yangtze River Delta in East China. It is one of the fastest growing cities on the planet. Today there are 957 high rise buildings and 126 skyscrapers in Shanghai city. In the mid 2015 the Shanghai city will open the tallest skyscraper in China. The new megatall building is known as Shanghai tower, a 125 storey 632 meter high skyscraper under construction in the Pudong district of Shanghai. The construction started in 2008 and expected to be opened in the mid of 2015. On completion the Shanghai tower has also become the second tallest building in the world.
Top 5 Tallest Buildings In Shanghai
Shanghai Tower – 632 meters
Shanghai Financial Center – 492 meters
Jin Mao Tower – 420.6 meters
Shimao International Plaza – 333.45 meters
5. Chicago (117)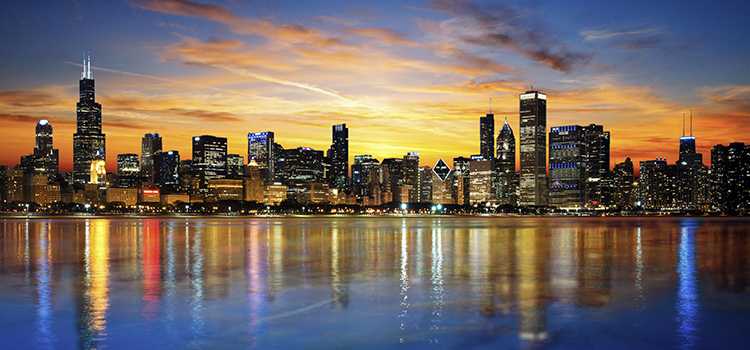 Chicago is the third most populous city in the United States. With over 2.7 million residents, it is the most populous city in the state of Illinois and the Midwest. The Chicago metropolitan area, often referred to as Chicagoland, has nearly 10 million people and is the third-largest in the U.S. Chicago city is also known for its great architectural tradition. It is the second largest skyline in the United States. This city boasts 1273 high rise buildings and 117 skyscrapers. Chicago city regarded as the birthplace of skyscrapers. The 138 feet high home insurance building constructed back in 1884 is the first skyscraper in the world. The building was demolished in 1931. Today, the 442 meters high Willis towers built back in 1974 is the tallest building in Chicago.
Top 5 Tallest Buildings In Chicago
Willis Tower – 442.2 meters
Trump International Hotel And Tower – 423 meters
Aon Center – 346..25 meters
John Hancock Center – 343.8 meters
Franklin Center-North Tower – 307 meters
6. Tokyo (114)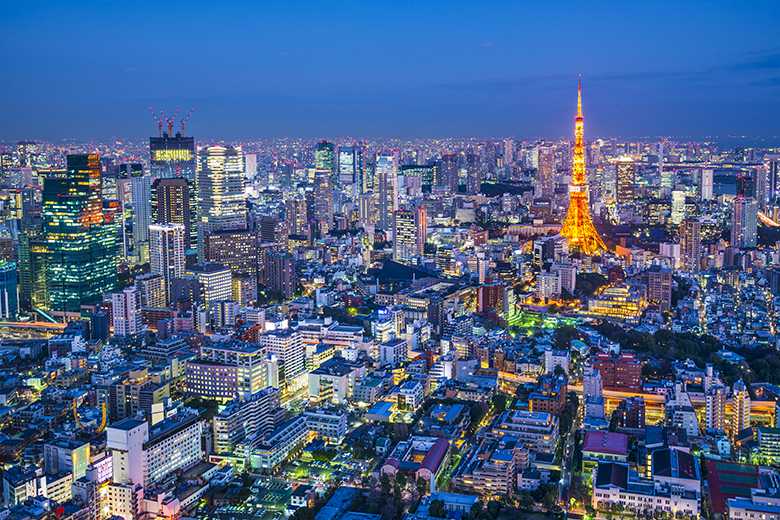 Tokyo officially Tokyo Metropolis is one of the 47 prefectures of Japan, and is both the capital and largest city of Japan. The Greater Tokyo Area is the most populous metropolitan area in the world With a population of 13.30 million. Apart from its size Tokyo city also is also an economically powerful city in the world. Today Tokyo city you can see about 2390 high rise buildings and 114 amazing skyscrapers. But until 1963 the height of buildings in Tokyo was limited to just 31 meters. It was because earthquakes are very frequent in Tokyo city. The rapid rise of Tokyo skyline in recent decades is as a result of modern engineering techniques. The 36 storey Kasumigaseki is the first 150+ meters high skyscraper in Tokyo city. It was built back in 1968. Now title held by Toranomon hills, a hotel/residential in located in Minato ward of Tokyo. It is a 52 storey skyscraper that rises to 256 meters in height.
Top 5 Tallest Buildings In Tokyo
Toranomon Hills – 255.4 meters
Midtown Tower – 247.8 meters
Tokyo Metropolitan Government Building – 243.5meters
NTT Docomo Yoyogi Building – 240 meters
7. Chongqing (94)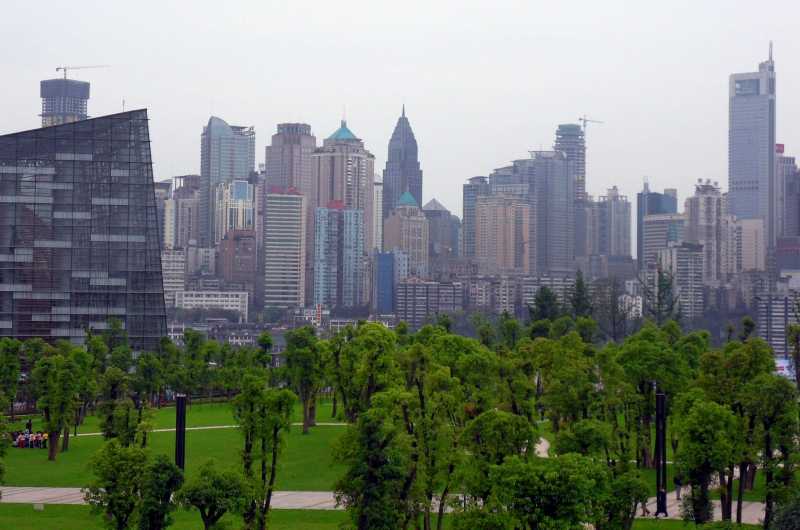 Chongqing is a major city in Southwest China and one of the five national central cities in China. The municipality was created on 14 March 1997. Chongqing's population as of 2015 is just over 30 million with an urban population of 18.38 million. The city is one of major industrial centers in China. With 94, 150+ meters high skyscrapers the Chongqing is ranked among cities with most skyscrapers. The 12 out of 94 skyscrapers in Chongqing city rises more than 200 meters in height. At present the 339 meters high Chongqing World Financial Center is the tallest skyscraper in Chongqing City. About 35 skyscrapers also under construction in Chongqing city. Upon them the Chongqing International Trade and Commercial Center I will become the highest skyscraper in the city by 2017. It is a 100 storey 468 meter high supertall skyscraper construction started in 2012 and expected to be completed in 2017.
Top 5 Tallest Buildings In Chongqing City
Chongqing World Financial Center – 339 meters
Yingli Tower – 288 meters
Chongqing Poly Tower – 286.8 meters
Chongqing World Trade Center – 283.15 meters
Lanko-Grand Hyatt Hotel – 257.8 meters
8. Guangzhou (93)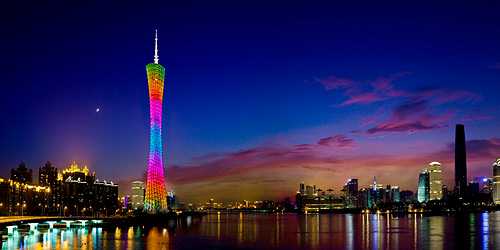 Guangzhou is the capital and largest city of Guangdong province in South China. Guangzhou is one of the major birthplaces of China's ancient "maritime Silk Road". Guangzhou serves as an important national transportation hub and trading port. Guangzhou is the third largest city in China. Today this rich metropolis has 93 amazing skyscrapers that exceed 150 meters in height. The majority of skyscrapers in Guanzhou city are used as office and residential space. The 103 storey 439 meters high Guangzhou international finance center is the tallest building in Guangzhou city. This skyscraper is also known as west tower. It going to be surpassed by 530 meters high CTF financial center, a new skyscraper is under construction. It thinks to be completed by 2016.
Top 5 Tallest Buildings In Guangzhou City
Guangzhou International Finance Center – 438.60 meters
CITIC Plaza – 390.14 meters
The Pinnacle – 360 meters
Pearl River Tower – 309.37 meters
Leatop Plaza – 302.6 meters
9. Shenzhen (83)
Shenzhen is a major city in Guangdong Province, China. Shenzhen had transformed to a city with population of 10,778,900 and a metropolitan area population of over 18 million. Shenzhen was one of the fastest-growing cities in the world during the 1990s and the 2000s. Shenzhen is a modern metropolis and second largest port city in China. This city is a special economic zone of China and known for its striking architecture. The skyline of Shenzhen is truly amazing with 83 skyscrapers that rise 150+ meters in height. More than 40 150+ m skyscrapers are also under construction in Shenzhen city, believed to be completed by 2018. Currently the KK100 located in Luohu district is the highest skyscraper in Shenzhen City. The 100 storey mixed use building rises 441 meters in height.
Top 5 Tallest Buildings In Shenzhen City
Shun Hing Square – 384.04 meters
East Pacific Center Tower A – 306.01 meters
SEG Plaza – 291.69 meters
Excellence Century Plaza Tower I – 280.11 meters
10. Singapore (81)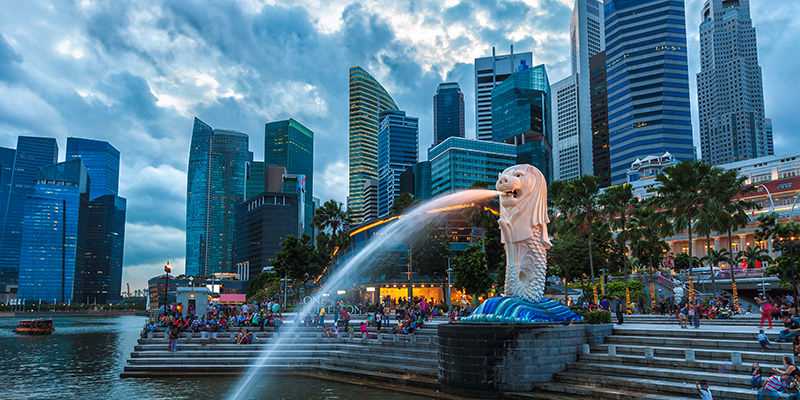 Singapore officially the Republic of Singapore, and often referred to as the Lion City, the Garden City, and the Red Dot, is a global city in Southeast Asia and the world's only island city-state. Singapore's greening policy has covered the densely populated island with tropical flora, parks and gardens. The Singapore city has 81 skyscrapers that rise more than 150 meters. Most of the skyscrapers are located in the downtown core of the city. Majority of skyscrapers in Singapore city are functioned as office space. The Mandarin orchard tower 2 built back in 1973 is the first 150m+ building in Singapore city. At present the 67 storey 280 meters high UOB plaza one is the tallest building in the city.
Top 5 Tallest Buildings In Singapore
UOB Plaza One – 280.11 meters
One Raffles Place – 277.67 meters
Republic Plaza – 276.14 meters
Capital Tower – 255.42 meters
One Raffles Quay North Tower – 245.05 meters
So what you think about this list don't forget to mention :)